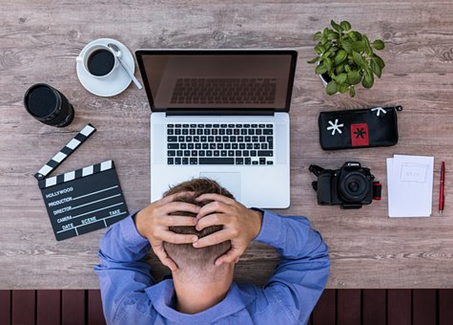 Do you find yourself over thinking all of the time? Are the thoughts so worrying and unrelenting that you feel like your own mind won't let you be? Thoughts have been swirling around like a sandstorm about work, things you have been reading, household tasks, finances, concerns about people, loose ends, projects, etc.
When your thought processes are tired, it doesn't feel good. You're not peaceful, and probably stressed, which will gradually wear down your body and mood. You're more likely to make a mistake or a bad decision: studies show that experts have less brain activity than novices when performing tasks; their thoughts are not darting about in unproductive directions. When the mind is ruminating away like the proverbial hamster on a treadmill, the emotional content is usually negative – hassles, threats, issues, problems.
Getting out of the mental traffic is an act of liberation and sagacity. Which Bach Flower Remedies could be useful for over thinking?
Which Bach Flower Remedies could be useful for over thinking?
You just can't stop thinking about an event, a person, something that happened in the past, or on a problem. Instead of looking for a solution, taking initiative and being active, you just keep thinking and cannot get it out of your mind. – WHITE CHESTNIUT
You worry about past mistakes and issues, and how they might lead to negative outcomes. – HONEYSUCKLE
You obsess about or over-analyze your day-to-day experiences and interactions with people & are lost into your own world – CLEMATIS.
Over-thinking on some trivial matter, on something that is of no real importance but which nevertheless occupies our thoughts to the exclusion of things of much greater significance. – CRAB APPLE
Many more Bach Flower Remedies are available to assist someone beat their problem of over thinking & regain their mental peace & calmness. Dr. Edward Bach intended that his remedies be used by all to help themselves & others in overcoming their difficulties in life. He said "This work of healing has been done & published and given freely so that people like yourself can help yourselves either in illness or to keep well and strong …
If one has difficulties in selection of the correct remedies, a visit to Bach Foundation Registered Practitioner could be prudent. Complete list of Bach Foundation Registered Practitioner in your country is available at https://www.bachcentre.com/found/rp list.php.
Note: Viren is a Bach Foundation Registered Practitioner & a licensed teacher from Bach Centre UK, conducting Bach Centre Approved Level – 1 course in India. To know more about his course kindly visit https://www. https://bachflowerindia.com/